Key Terms and Links
The hospital world is full of jargon, acronyms and complicated medicines and treatments that baffle even the wisest health care consumer. However, if you're going to join hospitals on this journey, it would be helpful if you could "speak a little bit of the language." Listed below are links to a hospital directory, a list of terminology, etc.
Health care definitions and acronyms
Use to impress your friends … and your doctor! (this section will link to a new page featuring a glossary of health care definitions.
A | B | C | D | E | F | G | H | I | J | K | L | M | N | O | P | Q | R | S | T | U | V | W | X | Y | Z
Accountable Care Organization
A group of health care providers who have entered into a formal agreement to assume collective responsibility for the cost and quality of care of a specific group of patients and who receive financial incentives to improve the quality and efficiency of health care.
Accreditation
Formal process of evaluation by which an agency or organization recognizes an institution or program of study as meeting certain predetermined criteria or standards.
Acute care
Short-term medical treatment, most often in a hospital, for people who have a severe illness or injury, or are recovering from surgery.
Admission or hospital admissions
The process of being admitted to a hospital as a patient. The rate and quality of this process may be a good indicator of the local health system's performance and the effectiveness of health plans in managing care.
Advance Beneficiary Notice
Notice a health care provider should give a Medicare beneficiary to sign when providing a service the provider believes will not be paid for by Medicare.
Advance Directive
Written document that says how an individual wants medical decisions to be made if he or she should lose the ability to make their own decisions. A health care advance directive may include a Living Will and a Durable Power of Attorney for health care.
Ambulatory Care
Medical care provided on an outpatient basis—therefore, not requiring a person to be admitted to the hospital. Ambulatory Care is provided in physicians' offices, clinics, emergency departments, outpatient surgery centers and hospital settings that do not involve a patient staying overnight.
Ambulatory Care Center, Freestanding
Health services rendered to patients who are not confined to a hospital bed as inpatients when services are rendered.
Ancillary Services
Services other than room, board, medical, and nursing services provided to hospital patients in the course of care. Examples include laboratory, radiology, pharmacy and therapy services.
Assignment
Agreement in which a patient assigns to a hospital the right to receive payment from a third party (insurance company) for the service the patient has received; acceptance by a physician of Medicare payment as full payment for services rendered.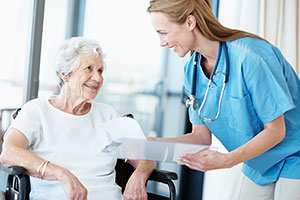 Hospital directory
List of all Alabama hospitals by name, by county and by the services they offer. view directory
HIPAA
Learn more about your right to privacy. Read about your rights, who must follow the privacy laws, how your information is protected, who can look at your information, etc. learn more
Patient's Bill of Rights
This brochure describes what to expect when you're in the hospital and what rights you have to things like privacy, information, etc. learn more. Other languages: Spanish, Vietnamese, Traditional Chinese, Others
---