Key Terms and Links
The hospital world is full of jargon, acronyms and complicated medicines and treatments that baffle even the wisest health care consumer. However, if you're going to join hospitals on this journey, it would be helpful if you could "speak a little bit of the language." Listed below are links to a hospital directory, a list of terminology, etc.
Health care definitions and acronyms
Use to impress your friends … and your doctor! (this section will link to a new page featuring a glossary of health care definitions.
A | B | C | D | E | F | G | H | I | J | K | L | M | N | O | P | Q | R | S | T | U | V | W | X | Y | Z
Case Management
System of assessment, treatment planning, referral, and follow-up that ensures the provision of comprehensive and continuous service and the coordination of payment and reimbursement for care.
Catastrophic Illness
Any acute or prolonged illness that is usually considered to be life threatening or with the threat of serious residual disability.
Census
Average number of inpatients, excluding newborns, receiving care each day during a specific period of time.
Chronic Disease
A sickness that is long-lasting or recurrent. Examples include diabetes, asthma, heart disease, kidney disease and chronic lung disease.
Clinical Practice Guidelines
A set of systematically developed statements, usually based on scientific evidence, that help physicians and their patients make decisions about appropriate health care for specific medical conditions. Clinical practice guidelines briefly identify and evaluate the most current information about prevention, diagnosis, prognosis, therapy, risk/benefit and cost effectiveness.
Community Mental Health Center
Facility that provides outpatient services (including specialized outpatient services for patients who have been discharged from inpatient treatment at a mental health facility) emergency care services, day treatment, and consultation and education services. Community mental health centers also provide screening for patients considered for admission to state mental health facilities.
Complication
Condition that arises during the hospital stay that prolongs the length of stay.
Consumer Engagement
The situation in which consumers take an active role in their own health care, from understanding their own conditions and available treatments, to seeking out and making decisions based on information about the performance of health care providers.
Coordination of Care
Mechanisms that ensure patients and clinicians have access to, and take into consideration, all required information on a patient's conditions and treatments to ensure that the patient receives appropriate health care services.
Credentialing
Generic term referring to the processes of certification and licensure of health care personnel and the formal recognition of professional or technical competence.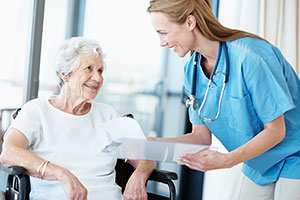 Hospital directory
List of all Alabama hospitals by name, by county and by the services they offer. view directory
HIPAA
Learn more about your right to privacy. Read about your rights, who must follow the privacy laws, how your information is protected, who can look at your information, etc. learn more
Patient's Bill of Rights
This brochure describes what to expect when you're in the hospital and what rights you have to things like privacy, information, etc. learn more. Other languages: Spanish, Vietnamese, Traditional Chinese, Others
---