Key Terms and Links
The hospital world is full of jargon, acronyms and complicated medicines and treatments that baffle even the wisest health care consumer. However, if you're going to join hospitals on this journey, it would be helpful if you could "speak a little bit of the language." Listed below are links to a hospital directory, a list of terminology, etc.
Health care definitions and acronyms
Use to impress your friends … and your doctor! (this section will link to a new page featuring a glossary of health care definitions.
A | B | C | D | E | F | G | H | I | J | K | L | M | N | O | P | Q | R | S | T | U | V | W | X | Y | Z
Diagnosis, Admitting
Diagnosis provided on admission, explaining the reason for admission.
Diagnosis, Secondary
Condition that exists at the time of admission or develops subsequently that affects the treatment received and/or length of stay.
Discharge Planning
Centralized, coordinated program developed by a hospital to ensure that each patient has a planned program for follow-up care.
Disease Management
An approach designed to improve the health and quality of life for people with chronic illnesses by working to keep the conditions under control and prevent them from getting worse.
Do-Not-Resuscitate Order
Order placed on a patient's chart by the attending physician, with patient or surrogate consent, that directs hospital personnel not to revive the patient if respiratory or cardiac activity ceases.
Durable Medical Equipment
Medical equipment, such as a respirator, wheelchair, home dialysis system, or monitoring system, that is prescribed by a physician for a patient's home use.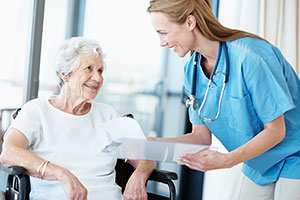 Hospital directory
List of all Alabama hospitals by name, by county and by the services they offer. view directory
HIPAA
Learn more about your right to privacy. Read about your rights, who must follow the privacy laws, how your information is protected, who can look at your information, etc. learn more
Patient's Bill of Rights
This brochure describes what to expect when you're in the hospital and what rights you have to things like privacy, information, etc. learn more. Other languages: Spanish, Vietnamese, Traditional Chinese, Others
---