Key Terms and Links
The hospital world is full of jargon, acronyms and complicated medicines and treatments that baffle even the wisest health care consumer. However, if you're going to join hospitals on this journey, it would be helpful if you could "speak a little bit of the language." Listed below are links to a hospital directory, a list of terminology, etc.
Health care definitions and acronyms
Use to impress your friends … and your doctor! (this section will link to a new page featuring a glossary of health care definitions.
A | B | C | D | E | F | G | H | I | J | K | L | M | N | O | P | Q | R | S | T | U | V | W | X | Y | Z
Effective Care
Includes health care services that are of proven value and have no significant tradeoffs. The benefits of the services so far outweigh the risks that all patients with specific medical needs should receive them. These services, such as beta-blockers for heart attack patients, are backed by well-articulated medical theory and strong evidence of efficacy, determined by clinical trials or valid cohort studies.
Electronic Health Record (EHR)
A computerized medical file that contains the history of a patient's medical care, commonly abbreviated as "EHR," in contrast to "PHR," which stands for personal health record., An EHR or EMR enables patients to transport their health care information with them at all times.
Eligibility Determination
Method of verifying eligibility of patients for medical services under particular programs or insurance plans.
Emergency Department
The department within a health care facility that is intended to provide rapid treatment to victims of sudden injury or illness. Emergency Departments across the nation struggle with overcrowding, long patient wait periods and shortages of health care professionals.
Emergency Medical Treatment & Active Labor Act
Requires any Medicare-participating hospital that operates a hospital emergency department to provide an appropriate medical screening examination to any patient that requests such an examination. If the hospital determines the patient has an emergency medical condition, it must either stabilize the patient's condition or arrange for a transfer.
Episodes of Care
A concept that focuses on a health condition from its inception through evaluation and treatment as a means of measuring both the quality of care received and the efficiency of the care provided.
Evidence-based Medicine
The use of the current, best available scientific research and practices with proven effectiveness in daily medical decision-making, including individual clinical practice decisions, by well-trained, experienced clinicians. Evidence is central to developing performance measures for the most common and costly health conditions. The measures allow consumers to compare medical providers and learn which ones routinely offer the highest quality, safest and most effective care.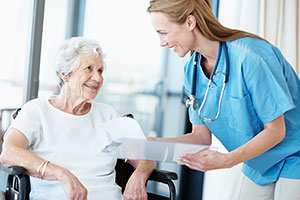 Hospital directory
List of all Alabama hospitals by name, by county and by the services they offer. view directory
HIPAA
Learn more about your right to privacy. Read about your rights, who must follow the privacy laws, how your information is protected, who can look at your information, etc. learn more
Patient's Bill of Rights
This brochure describes what to expect when you're in the hospital and what rights you have to things like privacy, information, etc. learn more. Other languages: Spanish, Vietnamese, Traditional Chinese, Others
---