Key Terms and Links
The hospital world is full of jargon, acronyms and complicated medicines and treatments that baffle even the wisest health care consumer. However, if you're going to join hospitals on this journey, it would be helpful if you could "speak a little bit of the language." Listed below are links to a hospital directory, a list of terminology, etc.
Health care definitions and acronyms
Use to impress your friends … and your doctor! (this section will link to a new page featuring a glossary of health care definitions.
A | B | C | D | E | F | G | H | I | J | K | L | M | N | O | P | Q | R | S | T | U | V | W | X | Y | Z
Health Insurance Portability & Accountability Act
Regulates health insurance portability, electronic health care transactions including electronic claims submission and the privacy of patients' medical information.
Home Health Care
Provision of health services such as nursing, therapy and health-related homemaker or social services in the patient's home.
Hospice Care
Care that addresses the physical, spiritual, emotional, psychological, social, and financial needs of the dying patient and his or her family.
Hospitalist
Doctor who primarily takes care of patients when they are in the hospital. He or she assumes care from the patient's primary doctor when the patient is hospitalized, communicates frequently with the primary doctor and returns the patient to the care of primary doctor when the patient leaves the hospital.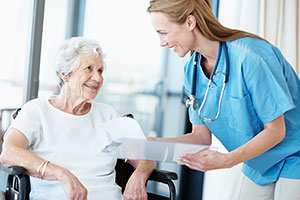 Hospital directory
List of all Alabama hospitals by name, by county and by the services they offer. view directory
HIPAA
Learn more about your right to privacy. Read about your rights, who must follow the privacy laws, how your information is protected, who can look at your information, etc. learn more
Patient's Bill of Rights
This brochure describes what to expect when you're in the hospital and what rights you have to things like privacy, information, etc. learn more. Other languages: Spanish, Vietnamese, Traditional Chinese, Others
---