Key Terms and Links
The hospital world is full of jargon, acronyms and complicated medicines and treatments that baffle even the wisest health care consumer. However, if you're going to join hospitals on this journey, it would be helpful if you could "speak a little bit of the language." Listed below are links to a hospital directory, a list of terminology, etc.
Health care definitions and acronyms
Use to impress your friends … and your doctor! (this section will link to a new page featuring a glossary of health care definitions.
A | B | C | D | E | F | G | H | I | J | K | L | M | N | O | P | Q | R | S | T | U | V | W | X | Y | Z
Medical Error
A mistake that harms a patient. Adverse drug events, hospital-acquired infections and wrong-site surgeries are examples of preventable medical errors.
Medical Staff
Organized body of licensed physicians and other licensed individuals permitted by law and by the hospital to provide patient care services independently in the hospital.
Medical Staff, Active
Physicians and other licensed individuals on the medical staff who regularly provide medical services within the hospital and who participate in all medical staff activities.
Medical Staff, Courtesy
Physicians and other licensed individuals who meet qualifications for appointment to the medical staff but who admit patients to the hospital only occasionally or act only as consultants and who are ineligible to participate in medical staff activities.
Misuse
Misuse occurs when an appropriate process of care has been selected, but a preventable complication occurs and the patient does not receive the full potential benefit of the service. Avoidable complications of surgery or medication use are misuse problems. A patient who suffers a rash after receiving penicillin for strep throat, despite having a known allergy to that antibiotic, is an example of misuse. A patient who develops a pneumothorax after an inexperienced operator attempted to insert a subclavian line would represent another example of misuse.
Mortality, Infant
Number of infant deaths in relation to all infants born in a given population over a given period, usually expressed as the number of neonatal deaths per 1,000 live births.
Mortality Rate, Hospital
Number of inpatient deaths in relation to total number of inpatients over a given period.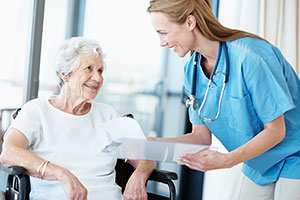 Hospital directory
List of all Alabama hospitals by name, by county and by the services they offer. view directory
HIPAA
Learn more about your right to privacy. Read about your rights, who must follow the privacy laws, how your information is protected, who can look at your information, etc. learn more
Patient's Bill of Rights
This brochure describes what to expect when you're in the hospital and what rights you have to things like privacy, information, etc. learn more. Other languages: Spanish, Vietnamese, Traditional Chinese, Others
---