Key Terms and Links
The hospital world is full of jargon, acronyms and complicated medicines and treatments that baffle even the wisest health care consumer. However, if you're going to join hospitals on this journey, it would be helpful if you could "speak a little bit of the language." Listed below are links to a hospital directory, a list of terminology, etc.
Health care definitions and acronyms
Use to impress your friends … and your doctor! (this section will link to a new page featuring a glossary of health care definitions.
A | B | C | D | E | F | G | H | I | J | K | L | M | N | O | P | Q | R | S | T | U | V | W | X | Y | Z
Patient-centered care
Patient-centered care considers patients' cultural traditions, personal preferences and values, family situations and lifestyles. Responsibility for important aspects of self-care and monitoring is put in patients' hands—along with the tools and support they need. Patient-centered care also ensures that transitions between different health care providers and care settings are coordinated and efficient. When care is patient-centered, unneeded and unwanted services can be reduced.
Patient-centered medical home (PCMH)
A health care model that aims to provide structured, proactive and coordinated care for patients rather than episodic treatments for illnesses. In a medical home, the primary-care doctor operates as a "home base" for patients, overseeing all aspects of patients' health and coordinates care with any specialists involved in the patient's care.
Patient Experience
Research reports and administrative information that reflect quality from the perspective of patients by capturing observations and opinions about what happened during the process of health care delivery. Patient experience encompasses various indicators of patient-centered care, including access (whether patients are obtaining appropriate care in a timely manner), communication skills, customer service, helpfulness of office staff and information resources.
Patient Registry
A patient database maintained by a hospital, doctors' practice or health plan that allows providers to identify their patients according to disease, demographic characteristics and other factors. Patient registries can help providers better coordinate care for their patients, monitor treatment and progress and improve overall quality of care.
Patient Satisfaction
A measurement designed to obtain reports or ratings from patients about services received from an organization, hospital, physician or health care provider.
Performance Measures
Sets of established standards against which health care performance is measured. Performance Measures are now widely accepted as a method for guiding informed decision-making as a strong impetus for improvement.
Personal Health Record
The medical and health-related background documents pertaining to a consumer.
Physical Therapist
Person who treats disease and injury by physical means, such as the application of light, heat, cold, water, electricity, massage, and exercise.
Physician, Hospital-Based
Physician, such as a director of medical education, pathologist, radiologist, or emergency department physician, who spends a predominant part of his or her practice time within one or more hospitals.
Physician, Primary Care
Physician who specializes in general internal medicine, general pediatrics, family practice, or obstetrics/gynecology.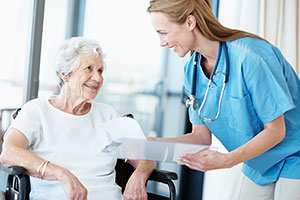 Hospital directory
List of all Alabama hospitals by name, by county and by the services they offer. view directory
HIPAA
Learn more about your right to privacy. Read about your rights, who must follow the privacy laws, how your information is protected, who can look at your information, etc. learn more
Patient's Bill of Rights
This brochure describes what to expect when you're in the hospital and what rights you have to things like privacy, information, etc. learn more. Other languages: Spanish, Vietnamese, Traditional Chinese, Others
---