Key Terms and Links
The hospital world is full of jargon, acronyms and complicated medicines and treatments that baffle even the wisest health care consumer. However, if you're going to join hospitals on this journey, it would be helpful if you could "speak a little bit of the language." Listed below are links to a hospital directory, a list of terminology, etc.
Health care definitions and acronyms
Use to impress your friends … and your doctor! (this section will link to a new page featuring a glossary of health care definitions.
A | B | C | D | E | F | G | H | I | J | K | L | M | N | O | P | Q | R | S | T | U | V | W | X | Y | Z
Quality Assurance Program
Organized set of activities designed to ensure ongoing assessment of important aspects of patient care, the correction of identified problems, and follow-up activities to verify that corrected problems have not reoccurred.
Quality Improvement
A term first coined in the private sector, when corporations began looking at ways to streamline and improve processes and systems. The most well-known example of quality improvement methodology is the "Six Sigma" method of change, developed by engineers at Motorola. In the health care context, the goal of quality improvement strategies is for patients to receive the appropriate care at the appropriate time and place with the appropriate mix of information and supporting resources. In many cases, health care systems are designed in such a way as to be overly cumbersome, fragmented, and indifferent to patients' needs. Quality improvement tools range from those that simply make recommendations but leave decision-making largely in the hands of individual physicians (e.g., practice guidelines) to those that prescribe patterns of care (e.g., critical pathways). Typically, quality improvement efforts are strongly rooted in evidence-based procedures and rely extensively on data collected about processes and outcomes.
Quality Indicator
An agreed-upon process or outcome measure that is used to determine the level of quality achieved. A measurable variable (or characteristic) that can be used to determine the degree of adherence to a standard or achievement of quality goals.
Quality Measures
Mechanisms used to assign a quantity to quality of care by comparison to a criterion.
Quality of Care
A measure of the ability of a doctor, hospital or health plan to provide services for individuals and populations that increase the likelihood of desired health outcomes and are consistent with current professional knowledge. Good quality health care means doing the right thing at the right time, in the right way, for the right person and getting the best possible results. According to the mantra for the quality improvement movement, care should be "safe, effective, patient-centered, timely, efficient and equitable."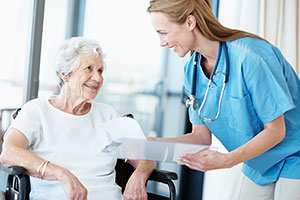 Hospital directory
List of all Alabama hospitals by name, by county and by the services they offer. view directory
HIPAA
Learn more about your right to privacy. Read about your rights, who must follow the privacy laws, how your information is protected, who can look at your information, etc. learn more
Patient's Bill of Rights
This brochure describes what to expect when you're in the hospital and what rights you have to things like privacy, information, etc. learn more. Other languages: Spanish, Vietnamese, Traditional Chinese, Others
---