Key Terms and Links
The hospital world is full of jargon, acronyms and complicated medicines and treatments that baffle even the wisest health care consumer. However, if you're going to join hospitals on this journey, it would be helpful if you could "speak a little bit of the language." Listed below are links to a hospital directory, a list of terminology, etc.
Health care definitions and acronyms
Use to impress your friends … and your doctor! (this section will link to a new page featuring a glossary of health care definitions.
A | B | C | D | E | F | G | H | I | J | K | L | M | N | O | P | Q | R | S | T | U | V | W | X | Y | Z
Secondary Care
Provision of a specialized medical service by a physician specialist or a hospital, usually upon referral by a primary care physician.
Self-management
The ability of individuals to have the necessary knowledge, attitudes and skills to manage their health problems or disorders on a day-to-day basis. It is a skill that enables individuals, and their families, to make improved use of existing health services, as well as make choices surrounding health care providers, medication, diet, exercise and other lifestyle issues that protect or damage health.
Skilled Nursing Facility
Facility with an organized professional staff that provides medical, continuous nursing and various other health and social services to patients who are not in an acute phase of illness but who require primarily restorative or skilled nursing care on an inpatient basis.
Social Work Service
Service providing assistance and counseling to patients and their families in dealing with social, emotional and environmental problems associated with illness or disability, often in the context of discharge planning coordination.
Specialty Care
Health care focused on improving the well being of certain specialized categories of health, as opposed to general and overall health and well-being. To improve the quality of health care available to consumers and patients, providers must improve the quality and availability of primary and specialty care.
Staffing Ratio
Total number of hospital employees (full-time equivalents) divided by the average daily census.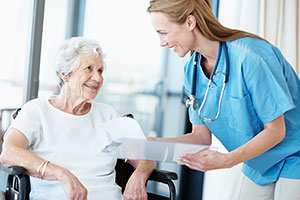 Hospital directory
List of all Alabama hospitals by name, by county and by the services they offer. view directory
HIPAA
Learn more about your right to privacy. Read about your rights, who must follow the privacy laws, how your information is protected, who can look at your information, etc. learn more
Patient's Bill of Rights
This brochure describes what to expect when you're in the hospital and what rights you have to things like privacy, information, etc. learn more. Other languages: Spanish, Vietnamese, Traditional Chinese, Others
---